Chris Brown of Turner Sports took attendees of the 2018 SVG Summit behind the scenes of Turner's productions at the Ryder Cup which sent back more than a dozen IP streams over the Public Internet using the Haivision HE4000 HEVC Encoders with SafeStreams Transport and The Match, which deployed an array of next-gen tech and player miking strategies.
Company Overview
VidOvation is a leading provider of video, audio, and data transmission, contribution and distribution systems for houses of worship. Encompassing bonded cellular, wireless video, video streaming, video networking, encoding, IPTV, digital signage, and fiber-optic communications systems, VidOvation solutions improve video transmissions by removing the frustrations of dropouts, latency, interference, noise, and security issues. VidOvation excels in helping its clients integrate custom solutions into existing infrastructure, with the ability to satisfy almost any application or budget. The company applies proven expertise to the complete project lifecycle — from project consulting and management to engineering and design, to warranty and support. More information about how VidOvation is moving video forward can be found at vidovation.com.
In addition to VidOvation manufactured products, we also represent great brands such as ABonAir, Haivision, Black Magic Design, Cobalt Digital, MultiDyne Fiber, NewTek, Technicolor and more.
The SVG Summit this year will mark its 13th year as the place to be for those involved in any aspect of sports production, content creation, or distribution. Once again it will bring together more than 1,000 industry professionals from across the country and around the world for two full days of networking, panel discussions, and more!
VidOvation at the 2018 SVG Summit
Wireless video link provider ABonAir is renowned for providing extremely low latency in a long-range, high-performance, broadcast-grade wireless system, and VidOvation now represents ABonAir's products in the United States. ABonAir's one-of-a-kind solution will benefit VidOvation's customers in the sports, live events, and newsgathering spaces, where the lowest possible delay is mandatory while preserving high video quality.
At the 2018 SVG Summit, VidOvation will for the first time demonstrate ABonAir's flagship wireless video link — AB512™. Built on a bidirectional radio channel between transmitter and receiver, ABonAir's wireless video links acknowledge the correct acceptance of each group of pixels, thus providing exceptionally robust and reliable transmission.
Most notably, the AB512 system reduces latency to only a 7-millisecond delay (also known as subframe delay) for live event coverage, multicamera productions, and any other application in which latency of two to six frames or 30-90 milliseconds is unacceptable. Low delay enables crews to produce multicamera and live shows without worrying about the lag caused by lip sync or the simultaneous operation of multiple cameras. The system features an RF spectrum analyzer which automatically selects and hops to the best RF channel without dropping a single bit, while the manual channel selection option is ideal for frequency coordination at large events.
At the 2018 SVG Summit, VidOvation will demonstrate Haivision's Emmy Award Winning, HE4000 4K Ultra HD (UHD) HEVC live encoder, which relies on the public internet to contribute and distribute video, thereby helping to eliminate high satellite costs. The HE4000 is ideal for real-time delivery of live UHD or HD content over unmanaged IP networks. The compact, half-RU encoder combines 10-bit and 4:2:2 HEVC encoding with the latest generation of Haivision SafeStreams® technology to deliver live video content over IP at low latencies and bit rates. At the show, visitors will see the HE4000 in action with the latest version of Haivision's StreamHub transceiver and decoder platform, which offers integrated 4K UHD HEVC recording and decoding functions.
Users can achieve state-of-the-art 4K and multi-HD HEVC video encoding and IP distribution by combining the HE4000 with Haivision's QUAD Modem active antenna, which has four internal cellular modems featuring a high-efficiency, wideband antenna array. Two QUAD Modem active external wideband cellular antennas can be plugged into the HE4000's USB ports for transmission over bonded cellular networks. The QUAD Modem offers added cellular connectivity to the entire Haivision product line. Integrated Wi-Fi enables bonded cellular hotspots and VPN connectivity anywhere, providing users with highly needed internet connectivity when working in remote locations.
Photo Link: www.wallstcom.com/VidOvation/VidOvation-Haivision_HE4000.png
Photo Caption: HE4000 Advanced 4K and Multi-HD HEVC Video Encoder
Also on display at VidOvation's 2018 SVG Summit will be the Haivision Emmy Award Winning, PRO380 Series, the latest generation of Haivision's highly portable video uplink system is now available to customers in the U.S. and Canada. Packaging a best-in-class H.265/HEVC bonded cellular encoder and transmitter into a compact design, the PRO380 brings powerful bandwidth savings to live remote video production — delivering up to 30 percent savings in cellular data compared with other HEVC solutions on the market and up to 65 percent savings over H.264 uplink solutions.
Image Link:  www.wallstcom.com/VidOvation/VidOvation_Haivision_PRO380.jpeg
Image Caption:  VidOvation — Haivision PRO380 Series Video Uplink System
Haivision has enhanced its industry-leading mobile journalism (MOJO) solutions, which include the DMNG Laptop MacBook application and the DMNG APP iOS and Android applications. The new version of the DMNG APP smartphone application offers bonded live streaming, storage, and forwarding of high-quality live video. New features include an optimized interface, advanced camera settings (e.g., focus, exposure, white balance), dynamic resolution, and video quality improvements, with the capability to transmit video over bonded 3G/4G and Wi-Fi connections in just seconds. The new DMNG APP also includes the ability to edit video clips with a mobile device. When using the DMNG Laptop and DMNG APP, journalists can forward video segments that are edited and ready for air. This can drastically accelerate the time to air in electronic journalism.
Photo Link: www.wallstcom.com/VidOvation/VidOvation-Haivision_MOJO-solutions.png
Photo Caption: Innovative Mobile Journalism (MOJO) Solutions by Haivision
VidOvation IPTV & Digital Signage , a turn-key enterprise IPTV system, now includes full integration of DirecTV content. The integration enables an end-to-end IPTV system that includes DirecTV, digital rights management, video on demand, and digital video recording with streaming to smartphones, tablets, desktop players, displays, smart TVs, and set-top boxes.
Antelope Camera Systems is an equipment manufacturer for broadcast and feature film technology. Specialized on mini cameras
and high-speed solutions. Imaging solutions for sport, live action, feature, and documentary. Stunning new slow-motion perspectives with the world smallest live highspeed camera Antelope Pico. Get rid of frequency flicker problems for all highspeed camera with our Colibri Deflicker unit. Our brand new standard framerate mini cameras Antelope Ultra – with 4K resolution and Antelope Nano – with extremely small size are available now.
Leading experts from the television broadcasting, embedded hardware and software integration, and engineering established DoCaption in 2009, with the objective of developing ruggedized hardware solutions for the television industry. With an average of
25 years of experience per capita in developing captioning edition and transmission systems, which started in the late 80s with the major French broadcasters, as well as datacast insertion systems and set-top boxes for stock-exchange and news agencies from the mid-90s, we at DoCaption are very versatile, motivated and passionate about our work.DoCaption's philosophy and vision is: "Service is our Sales Manager".
Instead of being just "some company", we are both partner and friend. This relationship provides us with many excellent ideas and has become a major source of input for further developments within DoCaption. It is our window to the markets, a path to product innovation, and the door to our daily operations.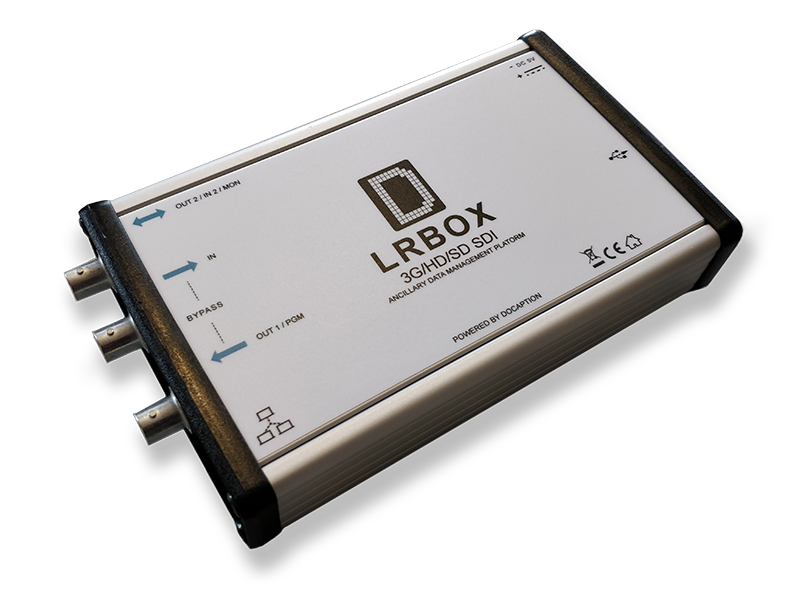 The LRBox platform is a versatile and cost-effective 100% hardware platform offering 3G/HD/SD-SDI I/Os with modular features.It provides on-the-fly video ancillary data insertion, extraction, and bridging capabilities, together with On-Screen-Display engine for monitoring.
Company Quote:
"At this year's 2018 SVG Summit, our lineup will showcase some of the best video uplink solutions VidOvation has to offer. Thanks to our partnership with Haivision, we're making it possible for production crews from the smallest TV stations to the biggest networks to establish live links in just about any conditions and save millions on their satellite contribution/distribution costs. And now that we also represent ABonAir, we can offer a wireless solution with a mere 7 milliseconds of latency that are the perfect complement to Haivision's bonded cellular solutions. Stop by and see for yourself how it all works together."

— Jim Jachetta, executive vice president and chief technology officer, VidOvation
VidOvation Contact:
Jim Jachetta
Executive VP and CTO
Tel: +1 949 777-5435
Email: jim@vidovation.com
Agency Contact:
Sarah Aller
Wall Street Communications
Tel: +1 720 418-1739
Email: sarah@wallstcom.com